Fatcat Web Construction

THE CLUB'S 2018 SPORTING CALENDAR
THURSDAY, MARCH 8TH
NRL TIPPING COMPETITION
EARLWOOD TIME
EARLWOOD STOCK EXCHANGE
The ESX's sole stock, BEERcoin, is currently trading steady at $63,006.30.
This listed price is underpinned by the cost of a schooner of Resch's served in the public bar of The Entrance Hotel during the World Series of Golf (1 schooner = 1/10,001 BEERcoin).
ESX All Ordinaries down 3 pts to 5,957.
EARLWOOD NEWS - COSTA PLENTI ACCOMMODATION BOOKED FOR WS XXX
Earlwood, February 21, 2018.
The private sanctuary and cultural oasis, Costa Plenti Estate, will host 13 players during 'The 30 for 30 Tour'.
Messrs Love, Fulke, Hayes, Montgomerie, Kent, Olazabal, Baird, Fatcatsson, Crenshaw, Haas, Waldorf, Stenson and Professor Emeritus Blue "6 Card" Sheedy B.Eu (Hons), the club's onsite gaming manager and croupier, have been allocated a much sought after bed in the luxury, secured compound.
Four apartments have been booked, 2 at Coast Luxury (including Casino Royale) and 2 at Riviera. Room allocations will be done early May.
EARLWOOD NEWS - LATEST WORLD SERIES TOUR NUMBERS AND NEWS
Earlwood, February 20, 2018.
After receiving notices of withdrawal from Garry Mize and prominent legal identity Tack Nicklaus, WS XXX will likely have 22 players.
As well as Mize and Nicklaus, other notable absentees from last year's tourists are Grantief Goosen and Paulking Harrington. These scratchings have been slightly offset by the confirmed return of 3-time winner JPY Hayes and the probable return of 1995 champion Big Jack 'The African' Daley.
This later return has put organisers on notice like Michael Caine in Zulu and led President Love to include The African natural disaster options (pestilence, war, famine and death) in our tournament public liability policy. The ESG&EC has written to The Entrance Chamber of Commerce, the local constabulary and Blue Bay liquor outlets alerting them to Big Jack's likely reappearance.
The week long extravaganza, incorporating two sanctioned World Series events, has been christened 'The 30 for 30 Tour'.
EARLWOOD NEWS - CLUB LAUNCHES BEERCOIN CRYPTOCURRENCY
January 13, 2018
BEERcoin has been announced as the ESG&EC's digital currency and local payment system. This exciting new cryptocurrency is underpinned by keg-to-tap-to-peer technology.
After a soft launch at the Earlwood Hotel last night, the club has mined 1,040 coins - one for every entrant in our two golf majors over nearly 30 years. The cornerstone of BEERcoin's value is the price The Entrance Hotel charges club members for a schooner of Resch's served during our annual May golf pilgrimage.
The Central Coast schooner impost has been rising faster than Sydney house prices and has been a boon to those astute insiders who got in early on the crypto bandwagon. BEERcoin has a market capitalisation in excess of AUD60 million (1 Entrance Hotel Resch's schooner = 1/10,001 BEERcoin).
BEERcoins can be stored in a digital wallet and used to pay for tournament entry fees, Costa Plenti accommodation, prizemoney and shouts of beer. The club's first BEERcoin recipient, President Davidson Love III, has become an overnight BEERcoin multi-millionaire with his bulging wallet of 56 coins - one for each of his tournament appearances. Wallets will be issued to eligible members in a market sensitive manner and at President Love's discretion.
EARLWOOD NEWS - VENUES & COSTS CONFIRMED FOR 2018 WORLD SERIES
January 10, 2018
President Love has confirmed venues and costs for this year's World Series (May 14).
The teams events will be played Monday and Tuesday at Gosford and Wyong and the individual events, stableford and stroke, at Toukley and Shelly Beach on Thursday and Friday.
Play will start at 9.00am on the first 3 days and 30 minutes later on Friday. Carts will be provided at all four venues.
The tournament entry fee is $400.
EARLWOOD NEWS - PRESIDENT RELEASES AUDITED POST MATCH PLAY ACCOUNTS
November 26, 2017
President Love has released the club's latest audited post-tournament accounts.
Balance Pre Match Play - $4575.50
Revenue - $1330 (19 players x 70)
Expenses - $2337 (green fees 988, hospitality 579, anniversary discount 50, prizemoney and trophys 720)
Tournament Loss - $1007
Balance Post Match Play - $3568.50 (includes $200 deposit with Shelly Beach for 2018)

Davidson Love III
Club President & Auditor
EARLWOOD NEWS - JAVA HAAS BREAKS THROUGH GRASS CEILING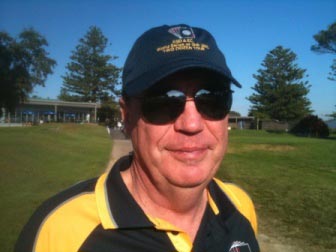 November 26, 2017
At his 29th attempt, Java Haas has finally won the Match Play Championship after seeing off the challenge of Kenny Crenshaw 2 up.
As a contest, the match was entertaining but as an advertisement for the skills of our golf club, it maintained a well-earned reputation for poor performances at the final hurdle.
Java's long overdue victory gives him entry to a very select group - he becomes the 10th member to have completed the coveted home and away double.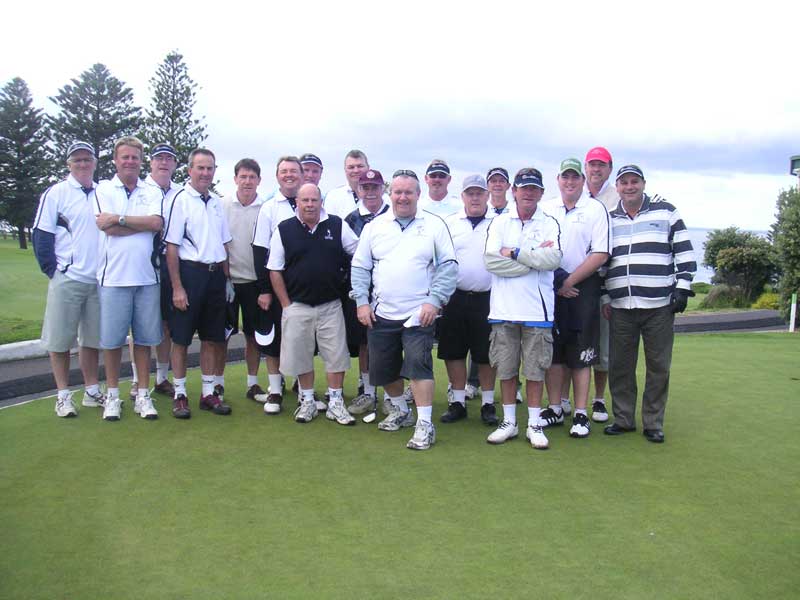 Hurry, hurry, hurry, step right up, last days - enter a competition offering a measured increase in wealth combined with life-changing international acclaim to it's most successful tipster.
The National Rugby League's (NRL) season commences on Thursday, March 8 and the ESG&EC is again running it's innovative online rugby league tipping competition, 1. "A Competition With A Difference". Your pre-paid $80 entry fee guarantees 25 bouts of weekly angst.
There are a few things that make our competition stand apart from all the others. The first is so very simple and yet fiendishly difficult - you don't make a selection in every game. On a normal weekend, you "only" need to pick 6 winners from any of the 8 games. These 6 picks are known as your scratch selections.
Second, we add a another class of selections to the mix - handicap selections. The underdog in each game is given a points start and you must select a further 4 winners, again from any of the 8 games, taking the starts into account.
Besides our major prizes, there are 2. 10 opportunities during the season to win some cash. And finally, we conduct an entertaining, professional and most importantly a transparent competition as evidenced by the fact in 2017 two-thirds of participants had been tipping with us for 15 years or more. More detailed information can be found on the Competition Rules page in the NRL Tipping area of this website.
1. The ESG&EC's "A Competition With A Difference", although sharing sporting, pseudo-celebrity and gambling interests and greatly admiring the now defunct charity's business acumen and chutzpah, was regrettably never associated with The Shane Warne Foundation
2. Based on the 2017 competition with 85 tipsters
SATURDAY, MAY 12TH
THE 30 FOR 30 TOUR
Like every May for the past 29 years, the ESG&EC will pack up it's bag of tricks, golf sticks and 3. Scanlen's footy cards and travel up to the NSW Central Coast to conduct it's week-long festival of sport and provide solace and cheer to the 4. good burghers of The Entrance.
As well as the two World Series tournaments, this year the club hosts the head-to-head Profanity Challenge between the undisputed potty-mouth heavyweights, 5. Edwardo 'The Prince' Romero and Big Jack 'The African' Daley. Big Jack's return after missing last year's 'Make Euchre Great Again Tour' will not only test the resolve of the Polish prince, it has also put organisers on notice like Michael Caine in Zulu and led President Love to include The African natural disaster options (pestilence, war, famine and death) in our tournament public liability policy. The ESG&EC has written to The Entrance Chamber of Commerce, the local constabulary, registered clubs and Blue Bay liquor outlets alerting them to 6. Big Jack's attendance.
3. Visit the NRL Tpping area of this website to see our extensive collection of 1980 Scanlens footy cards
4. Not to be confused with persons named Geoff Burg
5. The young viscount rescued from a post-apocalyptic Warsaw became infamous in his adopted country when, at the age of 5, the first English words he uttered both contained four-letters, one beginning with F and the other beginning with C. Sitting for the HSC in 1973, he could not have been any prouder when he was awarded 2 F's and 4 C's by the Board of Studies. And nearly half a century later, it's hard to discern even the slightest expansion to the now Flemington Markets f*#klift driver's simple vocabulary. His finest effort on tour was fitting four profanities, all starting with the letter F, into a five-word sentence. The sentence, which contained a noun, transitive verb, adjective and pronoun, an independent clause and a present tense, still managed to convey a very precise meaning
6. In 2012, after a 7 year sabbatical, The African returned in typically pugnacious style. After actively participating in our mandatory pre-tournament sea-level acclimatisation and hydration program, Friday night he was barred from the Diggers RSL and followed up the next night by being escorted from The Entrance Leagues Club. Both actions were the result of Big Jack's 'straight talking'
MONDAY, MAY 14TH
WORLD SERIES OF GOLF
The feature tournament of 'The 30 For 30 Tour', World Series XXX will tee-off on Monday, May 14, at Gosford and conclude with The Championship Round at Shelly Beach on Friday, May 18. The venues for Tuesday and Thursday are Wyong and Toukley.
Two-time winner and defending champion Notah Kelly III will headline the expected international field of *JPY Hayes, *Jose-Mumma Olazabal, Rich Kent, *Kipper Parnevik, *Seve Hemosteros, Henney Stenson, *Peard Fulke, Muzzy Zoeller, *Java Haas, Kenny Crenshaw, *Davidson Love III, *Edwardo Romero, Sir Dick Faldo, *Hunter Meehan, Bourkie Baird, *Big Jack Daley, *Cavey Pavin, *Soldier Montgomerie, Trent Strange, *Per-Ulrik Fatcatsson and *Tubby Waldorf (*past champion).
WEDNESDAY, MAY 16TH
WORLD SERIES OF EUCHRE
The secondary tournament of 'The 30 For 30 Tour', the World Series of Euchre, is played mid-week at The Entrance Hotel Euchredome.
The knock-out event is held after Wednesday's races and begins with the all important draw for partners conducted by Blue "Six Card" Sheedy B.Eu (Hons), the Earlwood Euchre University's professor emeritus. According to the wily old matchmaker last year's winners, Tubby Waldorf and the good professor himself, will start at long odds to team up let alone go back to back.
2017 World Series of Euchre Results.
SUNDAY, NOVEMBER 11TH
MATCH PLAY CHAMPIONSHIP
Featuring some of the toughest and most picturesque holes on the Cooks Peninsula, The Royal & Ancient Marrickville Old Course will host the thirtieth running of The Championship. 2017 winner, Java Haas, will attempt to create history by successfully defending the Stephen Angry Anderson Trophy.
The tournament is a handicap match play event and, unless we have exactly 16 competitors, play begins with the Don Lane Invitational stableford qualifying round. The event will likely start on Sunday, November 11, and spans 3 consecutive weekends with the semi-finals by default set down for the Friday before the Championship Match.
Fatcat Web Construction