CLUB DENIES RESPONSIBILITY FOR ENVIRONMENTAL DISASTER (Part 1)
May 20. ESG&EC officials have been questioned by Environmental Protection Agency (EPA) investigators over the befoulment of Budgewoi Lake last Thursday. Even at this early stage, the situation has been described by authorities as a looming ecological disaster.
The EPA has identified an area just out of bounds on the 14th hole of Toukley golf course as the source of the contamination, a spot where human stool types 6 and 7 were found in abundance, along with a few soiled baby wipes and some discarded imodium packaging.
Investigators surmise there maybe some interlaced toilets sheets yet to be uncovered in the surrounding areas although they remain perplexed as to why any individual would attempt to smuggle used toilet paper from the heavily polluted scene.
story continues in Part 2 ...
CLUB DENIES RESPONSIBILITY FOR ENVIRONMENTAL DISASTER (Part 2)
A despondent EPA spokesman said, "What we are truly struggling with is the absolute indifference shown towards this pristine waterway and it's marine life. Can you believe it? Not more than a 100 metres away from where we stand is an on course toilet !"
Earlier the same day, police cordoned off a 10 metre exclusion zone around the mens toilet next to the Toukley pro shop after the discovery of a bubbling faecal time bomb. After using industrial fans to disperse the sickening fumes, a fully-kitted Hazmat team (pictured) was eventually able to enter the crapper to decontaminate and breakdown the human waste through a combination of chemical retardant and 30 or so flushes from a high pressure hydrojet power washer.
Authorities contacted the club after reports suggested our members were playing a turd round that day but they've since been assured it was just a regular Day 3 of the World Series. The club is fully co-operating as the search for the culprit, one very sick hombre indeed, continues.
CLUB FINANCIAL STATEMENT POST 2019 WORLD SERIES
May 19. The club has released it's latest audited post-tournament accounts.
Balance Pre World Series - $1,924.85 (included $200 deposit with Shelly Beach for 2019)
WS Revenue - $7,390 (16 players + 2 tourists)
WS Expenses - $6,460.03 (course costs 3032, golf extras - ids, balls, shirts 1106.13, milestones 100, prizemoney 1450, hospitality - tues lunch, wed lunch, fri bar tab, beercoins 771.90)
Tournament Profit - $929.97
Balance Post World Series - $2,854.82 (includes $200 deposit with Shelly Beach for 2020)

Davidson Love III
Club President & Auditor
LOVE CONQUERS ALL
May 17. After a near 25 year drought, Club President Davidson Love III (pictured) has now strung together 3 World Series of Golf victories (2013, 2014 and 2019) in his past 6 starts.
Love finished on 6pts with wins in Monday's teams match play (paired with Notah Kelly) and Tuesday's stableford aggregate (partnered with Hunter Meehan) and seconds in the individual stableford (29pts) and stroke events (net 82).
Shire resident Hunter Meehan showed a welcome return to form with only his second podium finish in the past 15 starts. Meehan's results were a 2 & 1 loss in the teams match play (Rich Kent), a win in the stableford aggreagte (Love), a fourth and fifth in the individual events to finish on 13pts.
Brookvale Oval NRL interchange official Peard Fulke rounded out the placings on 16pts after a win in the teams match play (Romero), a fourth in the stableford aggregate (Strange), and a third and eighth in the individual events.
CLUB FINANCIAL STATEMENT POST 2018 MATCH PLAY
November 26. The club has released it's latest audited post-tournament accounts.
Balance Pre Match Play - $3,138.85
MP Revenue - $1,190 (17 players)
MP Expenses - $2,404 (green fees 978, prizemoney 700, milestones 200, hospitality 526)
Tournament Loss - $1,214
Balance Post Match Play - $1,924.85 (includes $200 deposit with Shelly Beach for 2019)
Davidson Love III
Club President & Auditor
CRENSHAW WINS 2018 THE PINNACLE
November 25. Kenny Crenshaw (pictured) won his second match play title after defeating Notah Kelly 5 & 4 in The Pinnacle's championship match. The final never reached any great heights after Crenshaw cruised to a lead of 4 up after only 7 holes.
So complete and one-sided was the victory, former President Seve Hemosteros left the presentation area early to attend the Sydney FC v Melbourne Victory soccer match. "It couldn't be any worse than the crap served up today,&quot opined the harsh critic of the club's playing standard.
Crenshaw's win comes on the back of a remarkable run - this was his third consecutive final. He played off 9 when he lost to Grantief Goosen (2015), 6 when he lost to Java Haas (2017) and 3 in this year's final. His 2019 handicap, +2, reflects that success.
TOUKLEY ENVIRONMENTAL DISASTER
The EPA has identified an area just out of bounds on the 14th hole of Toukley golf course as the source of the contamination, a spot where human stool types 6 and 7 were found in abundance, along with a few soiled baby wipes and discarded imodium packaging
Go to the About Us menu to find the complete ESG&EC Folklore Series
WOOD 'N STAIRWAY TO HEAVEN
combined with a profound interest in Anglican theological fashion, he confirmed travelling to and from Saints games with the wildly flamboyant and gregarious Froggy Smith had caused him to ponder on the emptiness and shallowness of his own existence and probably made him susceptible to the overtures of the fringe religious group
Go to the About Us menu to find the complete ESG&EC Folklore Series
WHITEBOARD AFFAIR SNAGS HANDICAPPER
Tubby Waldorf was accused of failing to observe the rudimentary protocols of golf handicapping. Opposition leader Alexander Downer said, 'The annual Match Play Championship is one of Australia's premier sporting and cultural events, combining the pomp, ceremony and tradition of a British royal coronation with the appalling drunken behaviour of Munich's Ocktoberfest patrons
Go to the About Us menu to find the complete ESG&EC Folklore Series
QATAR TO HOST 2015 WORLD SERIES
When the local press suggested Daley's latest alterations to the Al-Wakrah layout, originally planned to resemble the sails of a dhow boat, now made the course look like an 'enormous vagina', Daley replied, 'The resemblance to a woman's flange is more subliminal than intentional, but I for one love it
Go to the About Us menu to find the complete ESG&EC Folklore Series
DAILY TELEGRAPH ATTACKS THE TACK
erstwhile colleagues and friends of Nicklaus were disappointingly quick to jump on the Webster bandwagon. Lady Morisset, a prominent member of Lake Macquarie high society, stated, 'When I first cohabitated with Tack, every morning I woke up, looked at him and just wanted to heave. The nausea slowly recedes with time but it never quite goes away
Go to the About Us menu to find the complete ESG&EC Folklore Series
BATTLE FOR ESG
&

EC PRESIDENCY

and I say to them today, I will not hand control of the ESG&EC over to Davidson Love III, Edwardo Romero and Big Jack Daley. The old regime will never again dictate the fortunes of our club, nor will they regain control of what they covet most - access to the potentially lucrative Dickworth-Lewis golf handicap algorithms

Go to the About Us menu to find the complete ESG&EC Folklore Series
CLUB OPENS WALDORF MENS HEALTH CENTRE IN PENANG
this includes a relaxing golden shower at either single flow (the Cavey Pavin) or dual flow (the Seve Hemosteros) courtesy of your caddies during or after your round and a free consultation with our immigration specialist, The Judge, should you be looking to import a caddy on a 457 visa
Go to the About Us menu to find the complete ESG&EC Folklore Series
OUR "LORD LUCAN" SEEKS 2012 PLAYING TICKET
Jack acknowledged that he'd been in a very dark place when he went to Samoa. It was extremely fortunate, now he's sought readmittance to the tour, that their Medicare system could not afford to remove his enormous genitalia - it would have blown the island's entire health budget
Go to the About Us menu to find the complete ESG&EC Folklore Series
THE FATCATSSON REVIEW
the evidence is that the player's basic golf skills are diminishing in key areas; in particular driving, long irons, short irons, steam irons - Jose-Mumma Olazabal being the sole exception, chipping, sand play and putting. General athleticism, game sense/match awareness and golf expertise has fallen markedly in this period
Go to the About Us menu to find the complete ESG&EC Folklore Series
DON LANE TRIVIA QUIZ
This quiz has been compiled by Ford Funk, an Immigration Judge and Australian President of the Don Lane Lay the Cable Institute. He is also a director of the discreet humanitarian aid organisation, The 386 Society.
True or false? Kim told The Judge about her night with Don and his unusual request
View the complete ESG&EC Folklore Series
ANSWERS TO DON LANE TRIVIA QUIZ
True.
Unusual request? The Judge says it's a very normal and natural function although he accepts not everyone lays one on top of a custom built glass top coffee table in the lounge room
View the complete ESG&EC Folklore Series
BOURKIE BAIRD
ON THE CHAMPIONSHIP
I won it last year and I'm a good thing to go back to back. Most of the field is mentally weak, especially the foursome I disposed of last year
TC CHOI
ON THE CHAMPIONSHIP
When's it on? If I'm not playing overseas, I'll think about it
KENNY CRENSHAW
ON THE CHAMPIONSHIP
My game has gone to a new level since I started playing more regularly. I'm a live chance if I get through the qualifier
BLUEY DUNK
ON THE CHAMPIONSHIP
If I don't hit the ball like a girl, I may be a chance of adding another trophy to the cabinet
SIR DICK FALDO
ON THE CHAMPIONSHIP
I've been on a 14 year bender since my 2000 victory. In an effort to get my game back on track, my new caddie has suggested the novel approach of not drinking when I'm putting
PER-ULRIK FATCATSSON
ON THE CHAMPIONSHIP
My record at The Championship is both good and bad - 3 time finalist, 3 time loser. I hope 2014 will be better
PEARD FULKE
ON THE CHAMPIONSHIP
I've learnt a lot about myself during the past two tournaments and frankly it's not all that comforting
FORD FUNK
ON THE CHAMPIONSHIP
Have we got a determination yet from Immigration about whether we can employ lady caddies on the 457 visas?
GRANTIEF GOOSEN
ON THE CHAMPIONSHIP
There's no pressure with no expectation - que sera sera
JAVA HAAS
ON THE CHAMPIONSHIP
Stand aside fellow competitors, a new champion is coming through!
PAULKING HARRINGTON
ON THE CHAMPIONSHIP
I understand the event is different from the World Series but can't we still have a card game afterwards?
SEVE HEMOSTEROS
ON THE CHAMPIONSHIP
I'm hoping to avoid another year of bitter disappointment
NOTAH KELLY
ON THE CHAMPIONSHIP
It's hard to get excited about a golf tournament when a new dog has just entered the Smoke Da kennel
DAVIDSON LOVE III
ON THE CHAMPIONSHIP
Since I've gone full-time on the tour, I'm unbeatable. When you control the finances, the handicaps and the draw, you're hard to beat
RALPHY MCILROY
ON THE CHAMPIONSHIP
Do I have to drive Sir Dick to and from the course?
HUNTER MEEHAN
ON THE CHAMPIONSHIP
Losing to Bourkie last year really hurt. Let's hope I'm mentally tougher in 2014
PHILLIPS MICKELSON
ON THE CHAMPIONSHIP
The planets need to align for me to win the event but I'm arranging a visa as we speak
SOLDIER MONTGOMERIE
ON THE CHAMPIONSHIP
My chances of success have improved greatly after devoting myself entirely to tournament play. Slow and steady wins the race
TACK NICKLAUS
ON THE CHAMPIONSHIP
The week before, I'll be unveiling a new line of my popular leisure and pleasure sportswear range. A good result would help sales enormously
KIPPER PARNEVIK
ON THE CHAMPIONSHIP
For handicap purposes, I'm not expecting to qualify for the match play rounds before 2017
DANNY WHITE SHARK
ON THE CHAMPIONSHIP
I promise to take the event more seriously this year - no more wearing silly 'tit for tats'
HENNEY STENSON
ON THE CHAMPIONSHIP
I was treated like a leper when I won in 2011 - it's hard to forget and forgive the animosity I encountered
TUBBY WALDORF
ON THE CHAMPIONSHIP
People still haven't forgiven me for losing to Henney Stenson but I was seveely affected by a potent alcohol virus
KARRIE WHITE
ON THE CHAMPIONSHIP
After Thorpie's announcement, I too may let the cat out of the bag
NEWTOWN JETS REUNION DAY
SATURDAY AUGUST 31
Newtown's final home game of the season against the Newcastle Knights doubles as the Jets (nee Bluebags) official reunion day. A dwindling number of the stars from the 60's, 70's and 80's will be there - or at least those who:
a) reside in a nursing home with a courtesy bus;
b) nearing the end of their custodial sentence, have been granted weekend release; and/or
c) are still on the run from authorities.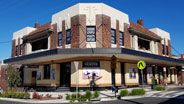 The ESG&EC is always well represented at this annual gathering, meeting at hipster heaven, the Henson Park Hotel (pictured), for a pre-game aperitif and watching the match (3pm kick-off) from the Lee Harvey Oswald grassy knoll adjacent to the King George V Memorial Grandstand and kiosk.
If you want to catch up before, during or after the game, let me know and we'll get it organised.
The Jets have two other home games before Reunion Day. On Saturday, July 27, Henson Park hosts the Beer, Footy, Food Festival and the Jets play the Bulldogs (3pm start). On Saturday, August 24, the Jets play the Wests Magpies for the Tom Raudonikis Cup (12.45pm start).
CATHOLICS vs. CONVICTS
30 Tales for 30 Years
Those few words printed in jest on a t-shirt by an savvy and opportunistic member took an already bitter rivalry and lit a blazing fire under it. In October 1994, Per-Ulrik Fatcatsson (Christian Brothers) battled Seve Hemosteros (Canterbury High) to the death in arguably one of the greatest games in Match Play history. It was sheer determination vs. swagger, Irish Catholic vs. Protestant, humble public servant vs. corporate heavyweight. The outcome shocked the sporting world and it's taken nearly 25 years for the players to sit down and tell their stories.
SILLY LITTLE GAMES
30 Tales for 30 Years
Few of the thousands of players who make up today's multi-million dollar Earlwood Euchre industry know anything about the game's origins, nor do they pay any respect and, more importantly, dividends to it's founders. That's about to change. The ESG&EC, a joint custodian of the game, has engaged one of the country's greatest strategic and legal minds, Tack Nicklaus QC, to protect it's commercial interests.
I HATE TUBBY WALDORF
30 Tales for 30 Years
He had money, butchery smarts, a reverse golf grip and became the first player to achieve the club's coveted home and away double after winning the 1990 Match Play Championship and the 2002 World Series. So why has Tubby Waldorf been disliked so intensely, by so many, for so long? Maybe it's the much maligned Saturday morning horse tips or a wardrobe of striped shirts. But sometimes, perception isn't reality.
DICK FALDO - ALL BY HIMSELF
30 Tales for 30 Years
He was The Beatles of golf - a charismatic, handsome and slender figure from Engadine who worked wonders with the ball and thrilled galleries wherever he went. But Dick Faldo was also the lead in a Shakespearean tragedy fuelled by alcohol and the fading memories of old sexual conquests. We'll talk with the neigbours who nailed a bottle opener to their wooden fence to facilitate his afternoon drinking sessions and meet the only woman from the 'Lender of Last Resort' who spurned his advances - his sister - and ask her the big question: Does she now regret that rash decision?
FOUR 'DOG' DAYS IN NOVEMBER
30 Tales for 30 Years
The streak began when he defeated hot shot 6th seed Kenny Crenshaw 3 & 1 in the Round of 16. A week later, Heckle Sunday, he beat the favoured Tubby Waldorf 2 & 1. The following Friday he saw off the well-fancied Hunter Meehan 5 & 3. In the final match he defied the odds to beat Peard Fulke 3 & 1. Was it skill, good fortune or an old-fashioned and carefuly orchestrated betting coup that turned the perennial underdog, Bourkie Baird, into the 2013 Match Play Champion?
THERE'S NO PLACE LIKE HOME
30 Tales for 30 Years
On December 10, 2013, Sotheby's London office auctioned off what could be considered the most important historical document in sports history - Seve Hemosteros' original World Series of Golf blueprint, drawn up at Robo Mediate's Macleay Place residence over a few drinks on Boxing Day, 1988. This is the story of one man's fanatical quest to win back this seminal artifact at auction and bring the document home to Earlwood where Hemosteros was born and raised. 25 years after he personally witnessed the blueprint's creation, Mediate inspired a group of wealthy benefactors to dream his dream and take a few shares in a couple of greyhounds as well.
THE PRINCE OF PROFANITY
30 Tales for 30 Years
Reader discretion is recommended - this story may contain frequent coarse language.
The young viscount rescued from a post-apocalyptic Warsaw became infamous in his adopted country when, at the age of 5, the first English words he uttered both contained four-letters, one beginning with F and the other beginning with C. Sitting for the HSC in 1973, he could not have been any prouder when he was awarded 2 F's and 4 C's by the Board of Studies. And nearly half a century later, it's hard to discern even the slightest expansion to the now Flemington Fruit Markets f*#klift driver's simple vocabulary. WTF*#k!!
SMALL POTATOES: WHO KILLED THE PRESIDENTS CUP
30 Tales for 30 Years
A bold challenge, a fearless experiment and ultimately, a spectacular failure. In 1999 a new event challenged the establishment's cosy duopoly, the World Series and Match Play Championship, but after a promising start at North Ryde and a final round at Eastlakes less than a decade later, The Presidents Cup disappeared from the ESG&EC sporting calendar.
HIT 'EM HARD - MY LIFE WITH BIG BALLS, BABES AND BOOZE
30 Tales for 30 Years
We remember the blonde mullet, a cigarette glued to the lips and those enormous fairway splitting drives that propelled him to victory at the 1995 World Series. We knew Big Jack Daly as much for those larrikin traits and his large dusters as for the constant drinking, womanising and swearing, mostly done off the course, that forced him into rehabilitation and a premature sporting retirement.
YOU DON'T KNOW BOO BOO
30 Tales for 30 Years
He's someone who played two sports professionally - golf and soccer. When speaking to others about him, I noticed something I'd never experienced before. At the mere mention of his name, people either immediately lit up in excitement or fell over laughing. Boo Boo's story isn't really a sports story, it's a superhero story. A superhero who broke his thumb shaking hands before an over 45's game in the Sutherland Shire minor leagues and, as a result, signed on as a marquee player with Sydney FC and became the face of Nike's landmark ad campaign, "You Don't Know Boo Boo".
1989 CHAMPIONSHIP
MATCH
Davidson Love def.
Costantino Blocker
1990 CHAMPIONSHIP
MATCH
Tubby Waldorf def.
Big Jack Daley
1991 CHAMPIONSHIP
MATCH
Davidson Love def.
Garry Mize
1992 CHAMPIONSHIP
MATCH
Shigeki Moroneyama def.
Soldier Montgomerie
1993 CHAMPIONSHIP
MATCH
Tack Nicklaus def.
Hal Whitton
1994 CHAMPIONSHIP
MATCH
Davidson Love def.
Per-Ulrik Fatcatsson
1995 CHAMPIONSHIP
MATCH
Hal Whitton def.
Cavey Pavin
1996 CHAMPIONSHIP
MATCH
Cavey Pavin def.
Java Haas
1997 CHAMPIONSHIP
MATCH
Vijay Field def.
Dick Faldo 4 & 3
1998 CHAMPIONSHIP
MATCH
Costantino Blocker def.
Bluey Dunk 2 up
1999 CHAMPIONSHIP
MATCH
Soldier Montgomerie def.
Per-Ulrik Fatcatsson 8 & 7
2000 CHAMPIONSHIP
MATCH
Dick Faldo def.
Costantino Blocker 4 & 3
2001 CHAMPIONSHIP
MATCH
Ford Funk def.
Sergio Grasscia 2 up
2002 CHAMPIONSHIP
MATCH
Vijay Field def.
Java Haas 4 & 2
2003 CHAMPIONSHIP
MATCH
Shigeki Moroneyama def.
Garry Mize 5 & 3
2004 CHAMPIONSHIP
MATCH
Davidson Love def.
Ken Crenshaw 1 up
2005 CHAMPIONSHIP
MATCH
Bluey Dunk def.
Tack Nicklaus 3 & 1
2006 CHAMPIONSHIP
MATCH
Edwardo Romero def.
Vijay Field 6 & 4
2007 CHAMPIONSHIP
MATCH
Kipper Parnevik def.
Per-Ulrik Fatcatsson 2 & 1
2008 CHAMPIONSHIP
MATCH
Notah Kelly def.
Peard Fulke 2 & 1
2009 CHAMPIONSHIP
MATCH
Ken Crenshaw def.
Boo Boo Weekley 3 & 1
2010 CHAMPIONSHIP
MATCH
Peard Fulke def.
Karrie White 4 & 3
2011 CHAMPIONSHIP
MATCH
Henney Stenson def.
Tubby Waldorf 3 & 1
2012 CHAMPIONSHIP
MATCH
Kipper Parnevik def.
Grantief Goosen 6 & 5
2013 CHAMPIONSHIP
MATCH
Bourkie Baird def.
Peard Fulke 3 & 1
2014 CHAMPIONSHIP
MATCH
Boo Boo Weekley def.
Dick Faldo 4 & 3
2015 CHAMPIONSHIP
MATCH
Grantief Goosen def.
Ken Crenshaw 4 & 3
2016 CHAMPIONSHIP
MATCH
Muzzy Zoeller def.
Bourkie Baird 3 & 2
2017 CHAMPIONSHIP
MATCH
Java Haas def.
Ken Crenshaw 2 up
2018 CHAMPIONSHIP
MATCH
Ken Crenshaw def.
Notah Kelly 5 & 4