1989 CHAMPIONSHIP MATCH
Davidson Love def.
Costantino Blocker
1990 CHAMPIONSHIP MATCH
Tubby Waldorf def.
Big Jack Daley
1991 CHAMPIONSHIP MATCH
Davidson Love def.
Garry Mize
1992 CHAMPIONSHIP MATCH
Shigeki Moroneyama def.
Soldier Montgomerie
1993 CHAMPIONSHIP MATCH
Tack Nicklaus def.
Hal Whitton
1994 CHAMPIONSHIP MATCH
Davidson Love def.
Per-Ulrik Fatcatsson
1995 CHAMPIONSHIP MATCH
Hal Whitton def.
Cavey Pavin
1996 CHAMPIONSHIP MATCH
Cavey Pavin def.
Java Haas
1997 CHAMPIONSHIP MATCH
Vijay Field def.
Dick Faldo 4 & 3
1998 CHAMPIONSHIP MATCH
Costantino Blocker def.
Bluey Dunk 2 up
1999 CHAMPIONSHIP MATCH
Soldier Montgomerie def.
Per-Ulrik Fatcatsson 8 & 7
2000 CHAMPIONSHIP MATCH
Dick Faldo def.
Costantino Blocker 4 & 3
2001 CHAMPIONSHIP MATCH
Ford Funk def.
Sergio Grasscia 2 up
2002 CHAMPIONSHIP MATCH
Vijay Field def.
Java Haas 4 & 2
2003 CHAMPIONSHIP MATCH
Shigeki Moroneyama def.
Garry Mize 5 & 3
2004 CHAMPIONSHIP MATCH
Davidson Love def.
Ken Crenshaw 1 up
2005 CHAMPIONSHIP MATCH
Bluey Dunk def.
Tack Nicklaus 3 & 1
2006 CHAMPIONSHIP MATCH
Edwardo Romero def.
Vijay Field 6 & 4
2007 CHAMPIONSHIP MATCH
Kipper Parnevik def.
Per-Ulrik Fatcatsson 2 & 1
2008 CHAMPIONSHIP MATCH
Notah Kelly def.
Peard Fulke 2 & 1
2009 CHAMPIONSHIP MATCH
Ken Crenshaw def.
Boo Boo Weekley 3 & 1
2010 CHAMPIONSHIP MATCH
Peard Fulke def.
Karrie White 4 & 3
2011 CHAMPIONSHIP MATCH
Henney Stenson def.
Tubby Waldorf 3 & 1
2012 CHAMPIONSHIP MATCH
Kipper Parnevik def.
Grantief Goosen 6 & 5
2013 CHAMPIONSHIP MATCH
Bourkie Baird def.
Peard Fulke 3 & 1
2014 CHAMPIONSHIP MATCH
Boo Boo Weekley def.
Dick Faldo 4 & 3
2015 CHAMPIONSHIP MATCH
Grantief Goosen def.
Ken Crenshaw 4 & 3
2016 CHAMPIONSHIP MATCH
Muzzy Zoeller def.
Bourkie Baird 3 & 2
2017 CHAMPIONSHIP MATCH
Java Haas def.
Ken Crenshaw 2 up
2018 CHAMPIONSHIP MATCH
Ken Crenshaw def.
Notah Kelly 5 & 4
RESULTS FOR FATCAT'S NRL TIPPING COMPETITION
September 8, 2019. It came down to match 192, Penrith vs Newcastle, the last game of the season to determine the outcome in Fatcat's annual NRL Tipping Competition, "A Competition With A Difference". Charbel Hatem's epic 19 point final round saw him jump from 8th place to equal first with Peter Escott and they split $3,500.
Marc Taylor finished 3rd ($1,000) 3 points behind the winning duo and 1 point ahead of BJ Malone and last year's winner Chris Ryan ($500 each).
Rounds 17-25 segment winners were Shaun Froggatt (overall 135pts) and Marc Taylor (handicap 53pts). The inaugural Gilling Legacy "winner" was Annie Mustow who redeemed her $80 entry fee after a thoroughly underwhelming debut season.
The 6 tipsters who gained entry - through a combination of skill and good fortune - to the competition's $250 lucky door prize, The Finals Series, are Charbel Hatem, Peter Escott, Mark Young, Michael Blaser, Connie Spence and John Hermsen.
DATE CONFIRMED FOR 2020 WORLD SERIES
August 27, 2019. World Series XXXII will be played Monday, May 18 through Friday, May 22. The first and most important piece in the planning jigsaw, Shelly Beach, has been locked in for Friday's Championship Round.
And following the shocking revelations of money laundering and human trafficking revealed in the Federal Parliament in recent weeks, the club is officially distancing itself from junket operator Blue Sheedy who has aligned his business activities with the popular week-long sporting and cultural festival.
Of particular concern for authorities is the allegation an illegal casino has been operating from inside his rented luxurious waterfront apartment. The media-shy entrepreneur has been accused of luring drunken and weary high-rollers back to his apartment with the promise of "wine, men and song" plus a few tasty morsels like cheese and crackers, chocolate bullets and salted peanuts.
Sheedy, presently on his annual winter caravan junket meeting other like-minded high rollers around Far North Queensland, was contacted but declined to comment as he was in the middle of a winner take all poker game with indigenous elder, Auntie Nookie, for a Coles $30 food voucher.
VALE GAZ PHILLIPS
August 5, 2019. The club received news this morning of the sudden death of UK-based tipster and past ESG&EC member Gary Phillips. Gaz suffered a heart attack during a social cricket match and was unable to be revived.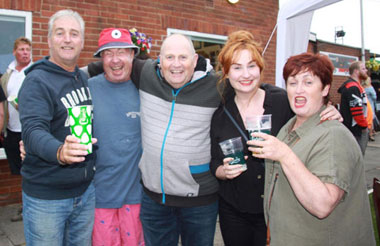 This is a very recent photo of Gaz (middle) borrowed from the Pudsey St Lawrence Cricket Club website. He's with brother-in-law John McGovern (hat), his niece Frances and sister, Lyn McGovern.
Our deepest condolences to Tracy and Liam on the loss of a loving husband and father and to all his family and friends.
Vale Gaz - a great friend to many on these shores.
DATES CONFIRMED FOR MATCH PLAY XXXI
July 25, 2019. President Love has confirmed dates for the 2019 Match Play CHampionship.
The tournament will start on Sunday, November 10 (the first weekend after the Melbourne Cup) with the Don Lane Invitational Qualifier and run for three consecutive Sundays, concluding with The Championship Match on Sunday, November 24. Each Sunday has a noon tee-time.
The President is aware the Bong Bong Cup is on the Friday prior to the final and is prepared to make reasonable allowances for any member of the Bong Bong 6 who reaches the semi-finals.
CLUB DENIES RESPONSIBILITY FOR ENVIRONMENTAL DISASTER (Part 1)
May 20, 2019. ESG&EC officials have been questioned by Environmental Protection Agency (EPA) investigators over the befoulment of Budgewoi Lake last Thursday. Even at this early stage, the situation has been described by authorities as a looming ecological disaster.
The EPA has identified an area just out of bounds on the 14th hole of Toukley golf course as the sole source of the contamination, a spot where human stool types 6 and 7 were found in abundance, along with a few soiled baby wipes and some discarded imodium packaging.
Investigators surmise there maybe some interlaced toilets sheets yet to be uncovered in the surrounding areas although they remain perplexed as to why any individual would attempt to smuggle used toilet paper from the heavily polluted scene.
story continues in Part 2 ...
CLUB DENIES RESPONSIBILITY FOR ENVIRONMENTAL DISASTER (Part 2)
May 20, 2019. A despondent EPA spokesman said, "What we are truly struggling with is the absolute indifference shown towards this pristine waterway and it's marine life. Can you believe it? Not more than a 100 metres away from where we stand is an on course toilet !"
Earlier the same day, police cordoned off a 10 metre exclusion zone around the mens toilet next to the Toukley pro shop after the discovery of a bubbling faecal time bomb. After using industrial fans to disperse the sickening fumes, a fully-kitted Hazmat team (pictured) was eventually able to enter the crapper to decontaminate and breakdown the human waste through a combination of chemical retardant and 30 or so flushes from a high pressure hydrojet power washer.
Authorities contacted the club after reports suggested our members were playing a turd round that day but they've since been assured it was just a regular Day 3 of the World Series. The club is fully co-operating as the search for the culprit, one very sick hombre indeed, continues.
CLUB FINANCIAL STATEMENT POST 2019 WORLD SERIES
May 19, 2019. The club has released it's latest audited post-tournament accounts.
Balance Pre World Series - $1,924.85 (included $200 deposit with Shelly Beach for 2019)
WS Revenue - $7,390 (16 players + 2 tourists)
WS Expenses - $6,460.03 (course costs 3032, golf extras - ids, balls, shirts 1106.13, milestones 100, prizemoney 1450, hospitality - tues lunch, wed lunch, fri bar tab, beercoins 771.90)
Tournament Profit - $929.97
Balance Post World Series - $2,854.82 (includes $200 deposit with Shelly Beach for 2020)

Davidson Love III
Club President & Auditor
LOVE CONQUERS ALL
May 17, 2019. After a near 25 year drought, Club President Davidson Love III (pictured) has now strung together 3 World Series of Golf victories (2013, 2014 and 2019) in his past 6 starts.
Love finished on 6pts with wins in Monday's teams match play (paired with Notah Kelly) and Tuesday's stableford aggregate (partnered with Hunter Meehan) and seconds in the individual stableford (29pts) and stroke events (net 82).
Shire resident Hunter Meehan showed a welcome return to form with only his second podium finish in the past 15 starts. Meehan's results were a 2 & 1 loss in the teams match play (Rich Kent), a win in the stableford aggreagte (Love), a fourth and fifth in the individual events to finish on 13pts.
Brookvale Oval NRL interchange official Peard Fulke rounded out the placings on 16pts after a win in the teams match play (Romero), a fourth in the stableford aggregate (Strange), and a third and eighth in the individual events.
CLUB FINANCIAL STATEMENT POST 2018 MATCH PLAY
November 26, 2018. The club has released it's latest audited post-tournament accounts.
Balance Pre Match Play - $3,138.85
MP Revenue - $1,190 (17 players)
MP Expenses - $2,404 (green fees 978, prizemoney 700, milestones 200, hospitality 526)
Tournament Loss - $1,214
Balance Post Match Play - $1,924.85 (includes $200 deposit with Shelly Beach for 2019)
Davidson Love III
Club President & Auditor
CRENSHAW WINS 2018 THE PINNACLE
November 25, 2018. Kenny Crenshaw (pictured) won his second match play title after defeating Notah Kelly 5 & 4 in The Pinnacle's championship match. The final never reached any great heights after Crenshaw cruised to a lead of 4 up after only 7 holes.
So complete and one-sided was the victory, former President Seve Hemosteros left the presentation area early to attend the Sydney FC v Melbourne Victory soccer match. "It couldn't be any worse than the crap served up today,&quot opined the harsh critic of the club's playing standard.
Crenshaw's win comes on the back of a remarkable run - this was his third consecutive final. He played off 9 when he lost to Grantief Goosen (2015), 6 when he lost to Java Haas (2017) and 3 in this year's final. His 2019 handicap, +2, reflects that success.
The qualifiers meet this way for the Round of 8: Match 1 - Players ranked 1 and 8, Match 2 - Players 4 and 5, Match 3 - Players 3 and 6 and Match 4 - Players 2 and 7. If a qualified player withdraws from the tournament before the match play rounds commence, the highest ranked non-qualifier will be invited into the field and seeded at no.8. All players ranked below the scratched player will move up one position. Once the match play rounds have commenced, no replacements are allowed and a match will be forfeited if a player is unavailable.
Under the Tournament Competition Committee's (TCC) watchful eye the popular event has been revamped in recent years. 2003 saw the start of some much needed change with the tournament successfully pushed back a month to avoid the encroaching October sporting crush of finals football and the Melbourne spring racing carnival.
The introduction of the highly transparent Dickworth-Lewis Handicapping System (DLHS) the same year created stand alone and criteria-based handicaps for each of our two majors (this event and the World Series of Golf). In 2004, a stableford qualifying round (QR) was added to the tournament and the top scorers are seeded through to the match play rounds. Starting in 2015, the QR format will alternate between stroke (odd years) and stableford events (even years). The all-in QR has streamlined opening day and readily accommodates all playing numbers.
On qualifying day, the low marker in each group will be the nominated rules official for his playing partners. If the low marker himself is to be the subject of a contentious decision, the group may check with his counterpart in another group for a ruling.
Players are not permitted to score their own cards on qualifying day - the card, with the players name and handicap clearly shown, must be marked by someone else in the group. The marker must check the player's score after each hole and is responsible for "recording the gross number of strokes at each hole".
On completion of the round the marker must sign the card and return it to the player. The player must check that the gross number of strokes recorded for each hole is correct, sign the card and return it to the tournament starter. It will be the starter's responsibility to ensure that the allocated stableford points or total strokes are correct.
The stroke index is traditionally drawn up by numbering the holes in the order of difficulty to achieve par. However clubs usually like to spread the strokes fairly evenly over the two nines so if stroke index 1 is in the first nine holes, stroke index 2 should be in the second nine holes, and so on. Strokes beyond 18 may be allocated in the same or different order to the first 18.
Any ties in the qualifying round will be decided by the following count back - last 9 holes (gross score minus 9/18ths of handicap), last 6 holes (gross score minus 6/18ths of handicap), last 3 holes (gross score minus 3/18ths of handicap) and and finally hole-by-hole from the 18th hole.
The match index does not refer to the difficulty of each hole but rather attempts to provide an even distribution of strokes during a match.
Linking the match handicap (the difference between the handicaps of the two players) to the match index gives you the holes on which the player with the higher handicap will receive a stroke, or if the match handicap is greater than 18, two strokes.
A match which ends all square will be played off hole-by-hole until someone wins a hole. The play-off starts on the hole where the match began and handicap strokes should be given/received on the same holes as per the first 18 holes.
Conceding is a feature of match play. Players may concede their opponent to have holed out with their next stroke and the ball may be removed by either player with a club or otherwise. A player may concede a hole or match at any time prior to the conclusion of the hole or match. Concession of a stroke, hole or match may not be declined, nor withdrawn.