NEWTOWN JETS REUNION DAY
SATURDAY AUGUST 31
Newtown's final home game of the season against the Newcastle Knights doubles as the Jets (nee Bluebags) official reunion day. A dwindling number of the stars from the 60's, 70's and 80's will be there - or at least those who:
a) reside in a nursing home with a courtesy bus;
b) nearing the end of their custodial sentence, have been granted weekend release; and/or
c) are still on the run from authorities.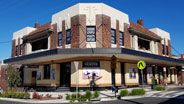 The ESG&EC is always well represented at this annual gathering, meeting at hipster heaven, the Henson Park Hotel (pictured), for a pre-game aperitif and watching the match (3pm kick-off) from the Lee Harvey Oswald grassy knoll adjacent to the King George V Memorial Grandstand and kiosk.
If you want to catch up before, during or after the game, let me know and we'll get it organised.
The Jets have two other home games before Reunion Day. On Saturday, July 27, Henson Park hosts the Beer, Footy, Food Festival and the Jets play the Bulldogs (3pm start). On Saturday, August 24, the Jets play the Wests Magpies for the Tom Raudonikis Cup (12.45pm start).
Brisbane 67 vs Bulldogs 5, Warriors 26 vs Sharks 17, Penrith 59 vs St.George 4, Roosters 86 vs Newcastle 2, Canberra 78 vs Wests Tigers 3, NQld 15 vs Souths 38, Gold Coast 3 vs Melbourne 81 and Manly 68 vs Parramatta 6
Brisbane 16 vs Bulldogs (+8.5) 32, Warriors (+1.5) 25 vs Sharks 16, Penrith 39 vs St.George (+3.5) 9, Roosters 19 vs Newcastle (+8.5) 23, Canberra 54 vs Wests Tigers (+5.5) 4, NQld (+4.5) 25 vs Souths 14, Gold Coast (+8.5) 17 vs Melbourne 39 and Manly 22 vs Parramatta (+5.5) 18
*Brisbane 28 def. Bulldogs 6, *Warriors 19 def. Sharks 18, *Penrith 40 def. St.George 18, *Roosters 48 def. Newcastle 10, *Canberra 20 def. Wests Tigers 12, *Souths 30 def. NQld 18 (* = handicap winner)